"
"Banjo solo!"
"

— Darcy

Darcy is a recurring character from Bunsen Is a Beast. She is a homeschooled girl, although she does not attend Muckledunk Elementary she shows up there nonetheless for reasons like socialization.

Darcy is currently portrayed by Cristina Milizia.
Personality
Darcy is a weird girl that sometimes appears to assist Bunsen and Mikey Munroe in solving problems. She does not get to socialize with other kids that often due to being homeschooled, and this has made her act unhinged.
Darcy has a habit of popping up in unexpected places and surprising Mikey and Bunsen. In the first episode, Darcy plays a banjo, wears pajamas, rides a bike, among other things, though claims they do not actually belong to her as a running gag.
Appearance
Darcy has lavender colored hair fashioned into two long braided pigtails with yellow beads, and wears light green overalls, over a yellow shirt with a rainbow pattern on it. Her shoes are a lighter shade of purple than her hair.
Relationships
She and Bunsen are good friends.
She and Mikey are good friends. In Unhappy Campers she helped Mikey get rid of his fear of the woods.
Trivia
In Tooth or Consequences, Darcy reveals she was born with adult teeth.
Darcy's house looks like an old-time school house and has several crudely-made mannequin children at the desks.
Darcy is in some ways similar to Tootie and Chloe Carmichael from The Fairly OddParents. Like Tootie, she is weird, jovial, smart, and stalks the main character albeit out of want of socialization rather than love, and like Chloe Carmichael, she is friends with the main character, has very strange and strict parents, and doesn't seem to have any enemies.
Her principal at homeschool is her mother, also known as Principal Mom
International Voices
German: Peggy Pollow
Serbian: Анастасија Видаковић / Anastasija Vidaković
Greek: Μαρία Ζερβού / Maria Zervou
Latin Spanish Susana moreno
Gallery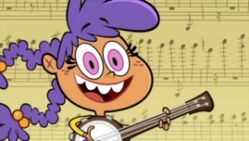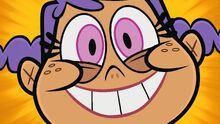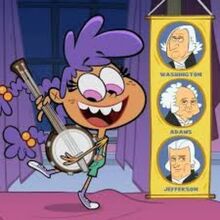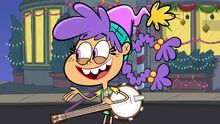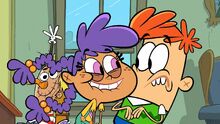 Community content is available under
CC-BY-SA
unless otherwise noted.